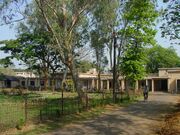 The Rajendra Prasad Hall of Residence (commonly known as RP Hall) was founded in 1954. It is situated nearest to the gate of the institute. It is named after Rajendra Prasad, the first president of the Republic of India. The Rajendra Prasad Hall is one of the oldest halls on campus at IIT Kharagpur.
Traditionally, RP hall is known for its Illumination and domination in the Technology General Championship.
The motto of the Hall is "Gentlemen by Choice."
The Vice-President for the session 2008-2009 is Arnav, he is a resident of RP Hall.
External Links
Edit